Dug
Lore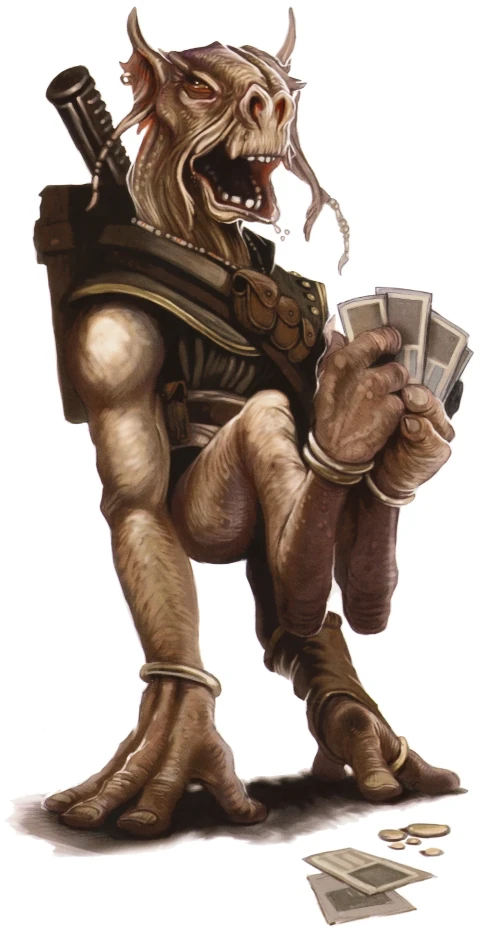 Dugs are aggressive mammalian sentients from the planet Malastare. They have beige, brown, gray, or purple skin and are quite small, usually averaging 1.12 meters in height. Other species recognize Dugs by their elongated snouts and the fact that they walk in an inverted manner, using their upper limbs for locomotion while carrying their lower limbs in front of them to use like hands.
Because of Gran colonization and oppression of the Dug homeworld, Dugs tend to show off their strength to establish dominance. They are notoriously ill-tempered and often bully others, including their own mate. They also tend not to leave their homeworld because of their experiences with the Gran forcing them into menial labor.
Of the few Dugs known to have left Malastare, many found homes with criminal elements. They are particularly fond of taking risks, like podracing and gambling.
Stats
| Stat | Mod | Min | Max |
| --- | --- | --- | --- |
| Strength | | 8 | 18 |
| Dexterity | | 8 | 18 |
| Mechanical | +2 | 10 | 20 |
| Technical | | 8 | 18 |
| Force | -2 | 1 | 16 |
| Charisma | | 8 | 18 |
Skills