Echani
Lore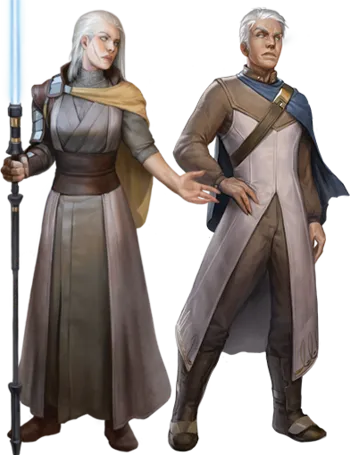 The Echani are a sentient humanoid species from the Inner Rim planet of Eshan. Their skin is a chalky pale color, and their hair and eyes are typically white and silver. Historians believe the Echani were the result of Arkanian experimentation with the Human genome. As a result of this experimentation, Echani lack diversity of body types and facial traits; all Echani look remarkably similar to each other.
The Echani believe in combat as a form of self-expression and communication: you cannot fully know or understand another being until you have fought them. Fighting one another is a method they learn when very young to distinguish individuals of their species since they so closely resemble each other. To an Echani, combat between two people could say more than hours of talking.
Echani fighting styles focus more on agility and movement, so they prefer to be unencumbered, using light weapons and armor rather than brute force or heavier weapons. Echani personal energy shields were very popular throughout the universe at one point.
Stats
| Stat | Mod | Min | Max |
| --- | --- | --- | --- |
| Strength | | 8 | 18 |
| Dexterity | +1 | 9 | 19 |
| Mechanical | | 8 | 18 |
| Technical | -1 | 2 | 17 |
| Force | | 8 | 18 |
| Charisma | | 8 | 18 |
Skills