Quarren
Lore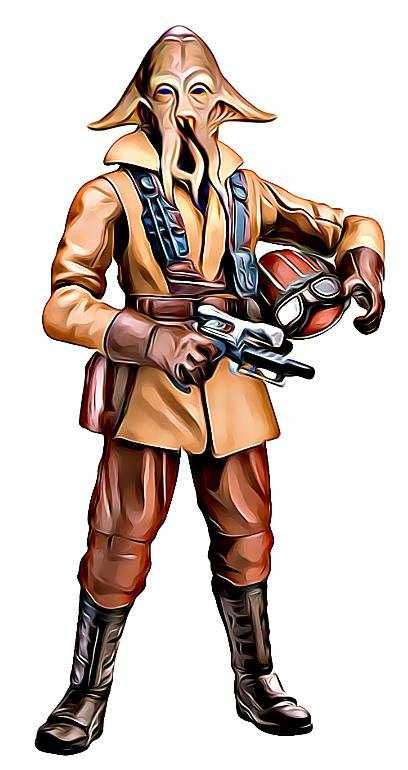 Quarren are a squid-like species from the oceans of Dac. Because of their hairless, salmon-colored skin and four facial tentacles protruding from their lower jaw, other species have given them the derogatory nickname of Squid Heads. Their eyes range from blue to turquoise in color. Their upper limbs end with either fin-like hands containing suction-tipped fingers or sharp claws. Quarren also have structures along their facial protrusions that look like gills, but they use these structures for hearing, not respiration.
Quarren are amphibious beings who share their homeworld, Dac, with the Mon Calamari. Over the centuries, the relationship between the species has been contentious, but it is generally peaceful since it's in the best interest of their world. Whereas the Mon Calamari adopted Basic as their main language to better deal with off-worlders, the Quarren kept their oceanic tongue, Quarrenese, which is better suited to underwater communications.
Though the majority of Quarren prefer to remain in the oceans of Dac, helping to mine ore for the Mon Calamari floating cities and space vessels, some followed the Mon Cals into the stars to seek a life elsewhere in the galaxy. Quarren have been known to make their living as diplomats, business managers, and accountants, though they can also find work with less reputable outfits.
Stats
| Stat | Mod | Min | Max |
| --- | --- | --- | --- |
| Strength | +1 | 9 | 19 |
| Dexterity | | 8 | 18 |
| Mechanical | | 8 | 18 |
| Technical | +1 | 9 | 19 |
| Force | -1 | 2 | 17 |
| Charisma | -1 | 7 | 17 |
Skills